System Implementation & Maintenance
QLS offers a wide range of services and programs designed to enhance your quality system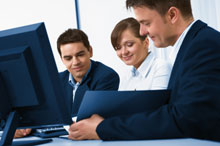 Quality Leadership Systems, Inc. provides custom-tailored consulting and training services designed to help small, medium, and large companies achieve compliance and certification to ISO 9001, ISO 14001, ISO/TS 16949, AS9100, and ISO 13485. We provide a "Hands on simple approach" that not only documents your processes, but ensures your systems are value added and measured for effectiveness.
Benefits to this approach include:
A flexible management system based on your companies actual business practices
Process based not procedure based system that adds value
Connection of quality management systems interactions to organizational processes
Top Management orientation and involvement
The development of measurable quality objectives that improve overall performance
Greater orientation toward continual improvement and customer satisfaction
Focus on effective internal communications throughout the organization
Verification of the effectiveness of training
Whether your objective is to be certified to one of these quality and/or environmental management system standards, improve your existing management system, or to achieve business excellence, QLS will customize a program to fit your needs.
Call today for a customized quote: 704-319-2247